rue
Cler
Situated in the 7th this quiet street at night erupts during the day time with one of the best of the many great Parisian street markets. Try staying on the Grande Hotel Leveque which is located on rue Cler itself for the full experience.

The Cafes which open on to the busy street with set menus for lunch and dinner serve more locals than tourists, but are easy to navigate for any one determined to have a real local experience. You'll find shops and restaurants and stalls selling the freshest vegetables, fruits as well as meats, wine from all over France and of course cheese, bread and pastries.

Very quiet in the early morning it is best visited just before lunch.

Try also rue Montorgueil for an even more local experience, but better brush up your French reading as you unlike rue Cler you won't find English menus there.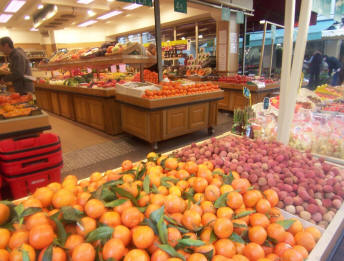 Getting There
Reach the rue Cler from the Island by walking south to the Cluny - La Sorbonne Metro station and taking line M10 towards Boulogne. After 7 stops change at la Motte-Picquet - Grenelle to M8 towards Créteil and alight after one more stop at École Militaire.
Come out of the station and turn around so you are facing north east and walk half a block until the first turning on your left, there is a Caisse d'Epargne with ATM on the corner with the Hotel de La Motte Picquet above, and the road surface is paved with decorative bricks to show that this is a semi-pedestrian area.