Île Saint-Louis
Another Island
Île Saint-Louis is the easterly neighbour of Ile de la Cite and although smaller does have many interesting sites. Don't miss the chance to visit both as the are directly next to each other in the Sein. Cross directly from one to the other via the pedestrian only Pont Saint-Louis which connects Quai d'Orleans to Quai de Borbon. On the Saint-Louis side enjoy one of the many fine cafes or look into the small shops that serve the residents of the island. Don't walk far though as it is a small island and you'll soon have left it!
To make the most of your short trip to Ile Saint-Louis take the first left turning after you cross on to the island and walk down the Rue Saint-Louis en l'Ile which runs through the center length of the island, a mere 540 meters in length but packed with interest..
This narrow road is packed interesting shops, from Jewlers to Creperie, there is something here for everyone whether they be shoppers, window shoppers or hungry! International French brands such as l'Occitane have shops here, but also independent boutiques, supermarkets , flower shops, art galleries and estate agents.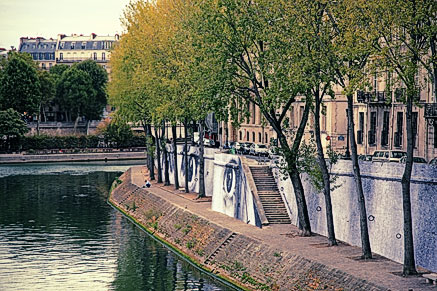 The Hotel Saint Louis at number 75 is a classic French hotel which packs history and luxury into a tiny space. Enjoy the hotel breakfast before taking a walk of just a few minutes to reach the Metro or the many attractions on this and the Ile de la Cite.
There are more restaurants further down the road towards the eastern end of the Ile Saint-Louis, try for example l'Ilot Vache (http://restaurant-ilotvache.fr/) for classic French cuisine in a cozy almost home-like atmosphere.
On the cross street of Rue des Duex-Ponts there is a post office, "La Poste Paris Ile Saint Louis", an Society Generale bank with ATM and a pharmacy to cater to your practical needs.
Near the end of the road you will notice on your right the large gates of a "Ecol de Garcons", or school for boys, in a classic building, which is connected to Saint-Louis-en-l'Île Church, with its fine tower and clock.
Past this the road becomes purely residential, and is a great example of how real Parisians live on the islands in the Sein. If you follow the road all the way to the end and take Pont Sully back to the bank you will be on your way to the Place de la Bastille in just another 600 meters.