How to get to
Ile de la Cite
Via Metro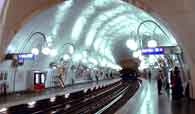 The island is well provided with transport, it has its own Metro station and the 5 bridges which cross the island provide many options. Actually the Metro station Cite which is on the island itself is on the line 4 which goes to Porte d'Orleans, and as such is not so much used by visitors to the city.
However if you do arrive by Metro then take the one and only exit up to ground level, it is 4 levels above the platform, and when you exit the staircase to the ground level you are facing the Flower market. Unfortunately like most metro stations there are no escalators so this is not a recommended way if you have any wheels with you, be they baby stroller or wheelchair.
As you exit to your left is the Tribunal de commerc, but from the ground you are too close to the wall to see the impressive tower or dome. On you right are the arms of the Hôpital de l'Hotel-Dieu. While behind is the most impressive Paris Police Headquarters or Préfecture de police.
Walk along the left side of the Police building, between it and the Hôpital de l'Hotel-Dieu for a few tens of meters and you will find yourself with the Place Jean-Paul II on your left, with towering over it the Cathedral of Notre Dam. This then is the welcome to the Ile de la Cite!
But while here, don't forget to look down at the ground, and see the zero-kilometer mark!
From the CDG airport
The fastest and least confusing route is to take the RER B line from Charles de Gaull direct to Sant-Michel Notre-Dame, which is then just a few moments walk across the bridge to the island. This trip will take less than an hour and goes through 5 zones.


From the Eifel Tower
Bus 69 or 87 depending on the time of day will take you on this route.
From the Louvre
Bus 67 is the best option, it is less than 10 minutes from the Louvre to the island, but you might also take the Yellow Metro line 1 which is only a little slower but perhaps easier! The bus 67 stops on the river side, not on the island, which is also the same on the Metro.